Never Fail Boiled Egg
 
Size 5
Small
Boil for:
Size 6
Standard
Boil for:
Size 7
Large
Boil for:
Soft runny yolk, solid white
Size 5 Small Boil for
4 mins
Size 6 Standard Boil for
5 mins
Size 7 Large Boil for
6 mins
Yolk and white set
Size 5 Small Boil for
5 mins
Size 6 Standard Boil for
6 mins
Size 7 Large Boil for
7 mins
Fill small saucepan with water and bring to a hard boil.
Use slotted spoon or tablespoon to gently slide the egg into the water. Bring the water to the boil again and start the timer. See timing chart below to suit your tastes.
Serve with 'soldiers' of toast for dipping and season with salt and pepper
Use Morning Harvest Eggs at room temperature.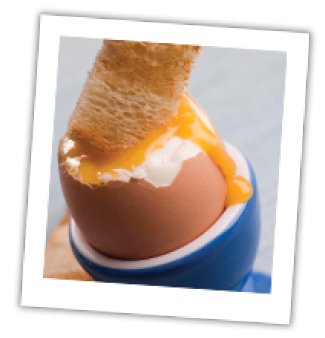 Microwave Scrambled Eggs
Excluding Preparation (1 min) + Leave to stand (1 min)
2 Morning Harvest Eggs
2 Tbsp Milk
Salt & Pepper to taste
1 tsp Butter
Whisk ingredients together in microwaveable container. Cover with plastic wrap, leaving small steam vent.
Microwave on MEDIUM-HIGH for 1 minute 30 seconds to 1 minute 45 seconds, stirring several times during cooking.
Microwave ovens vary, so cooking times may need to be adjusted.
Use good quality microwaveable container (round shapes work best for cooking eggs).
Eggs cook quickly. To stop them overcooking in the microwave, avoid using HIGH settings for egg dishes and allow to stand to complete the cooking process.
For a quick nutritious breakfast or after school snack, try our Coffee Cup Scramble - Even the kids can cook this after school.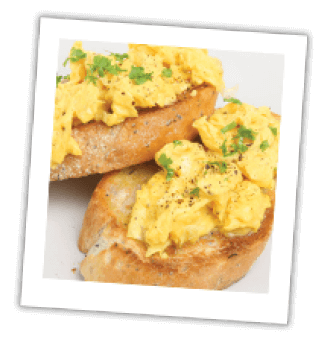 Apparently...
Crushed up egg shells sprinkled around plants help
prevent snails and slugs.
Awesome Omelette
Excluding Preparation (1 min)
2 Morning Harvest Eggs
2 Tbsp Water
Salt & Pepper
Knob of Butter or Spread
Crack eggs into bowl, add water, salt and pepper. Whisk with whisk or fork till just blended.
Melt butter or spread in small to medium size shallow non stick fry pan over medium - high heat.
Pour in egg mixture and tilt pan to allow egg to spread evenly. When eggs are just set but still moist on top, you can add your choice of filling. (see below).
Flip one half of the omelette over to cover the filling. Cook a moment longer to heat through and slide out onto warm plate.
Fresh Herbs, chopped
Fresh Tomatoes, diced
Ham, Salami or Chorizo sausage
Grated Cheese of your choosing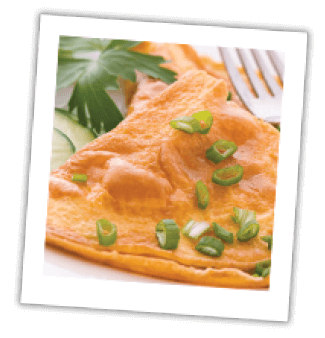 Poached Eggs to perfection
Excluding Preparation (5 mins)
2 Morning Harvest Eggs
¾ C White Vinegar (approx 1 tsp to each cup of water)
Break each egg into a small bowl or cup.
Fill a deep frying pan or saucepan with approx. 6cm water and bring to boil. Add vinegar. Reduce to gentle simmer (just small bubbles coming from the bottom of the pan).
Submerge the lip of the bowl or cup in the water, gently slide the eggs in one at a time.
Cook until egg white is firm and white, approx 2½ minutes for soft yolks, 3 ½ for firmer yolks.
Remove with slotted spoon and allow to drain. Serve on toast or English muffin.
Smaller eggs are best for poaching, the fresher the easier it is to poach.
Serve on top of an English muffin with smoked salmon or bacon and Hollandaise sauce for scrumptious Eggs Benedict.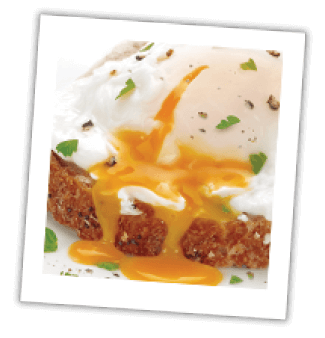 Egg and Cheese Microwave Coffee Cup Scramble
Excluding Preparation (1½ mins)
2 Morning Harvest Eggs
2 Tbsp Milk
2 Tbsp Cheddar Cheese, grated
Salt & Pepper
Coat microwave-safe coffee mug with cooking spray.
Add eggs and milk, whisk well with fork until blended. Cover with plate or saucer.
Microwave on MEDIUM-HIGH 45 seconds. Stir with fork.
Microwave 30-45 seconds longer, till eggs are almost set.
Top with cheese and season with salt & pepper.
Microwave ovens vary, so cooking times may need to be adjusted.
Eggs cook quickly. To stop them overcooking in the microwave, avoid using HIGH settings for egg dishes and allow to stand to complete the cooking process.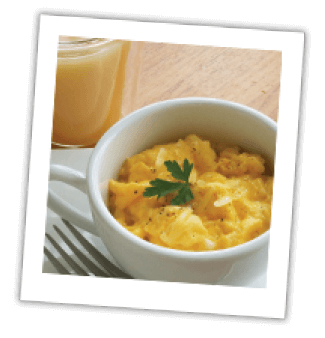 Quick n' Easy Mini Pizzas
Excluding Preparation (3 mins)
Pita Bread pocket (for pizza base)
Olive Oil
Tomato Paste
Toppings ideas: Ham or Salami, Grated Cheese, Fresh Tomato, Red Onion, Capsicum, Pineapple, Fresh Herbs etc
1 Morning Harvest Egg
Pre heat oven to 220ºC.
Brush pita bread with olive oil. Spread thinly with tomato paste. Add toppings of choice.
Break egg in centre of pizza. Place in oven on oven tray and cook for approximately 10-12 minutes, or until crust turns golden and egg starts to set. Remove from oven, season with a touch of sea salt & fresh cracked pepper. Slice & enjoy.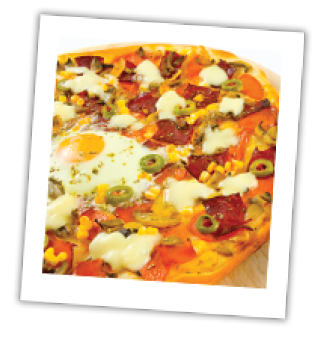 Apparently...
The fresher the egg, the harder it is to peel.
So use slightly older eggs for hard boiling.
Egg Salad Tortilla Wrap
2 Morning Harvest Eggs – hard boiled
2 Tbsp Lite Mayonnaise
½ tsp Mustard, grain or hot (optional)
Salt & Pepper
1 Tomato, diced
½ C Lettuce, shredded
¼ C Cheese, grated
1 Flour Tortilla Wrap
Mash together eggs, mayonnaise, mustard, salt and pepper in bowl.
Warm tortilla in microwave on high for 10-20 seconds to soften.
Spread egg down centre of tortilla (leave approx 5cm border at bottom).
Lay cheese, lettuce and tomatoes on top. Season with salt and pepper.
Fold up bottom of tortilla and tightly fold over sides to form wrap.
Try Microwave Scrambled Eggs in place of hard boiled eggs.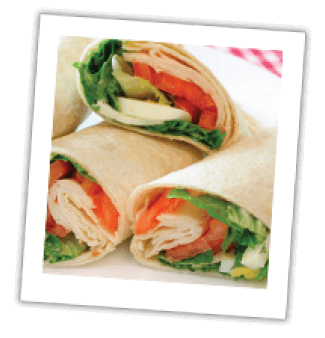 Moreish Bacon and Egg Muffin Melts
Excluding Preparation (10 mins)
4 Morning Harvest Eggs – hard boiled, peeled & chopped roughly
⅔ C Grated Cheddar Cheese
4 Tbsp Mayonnaise
4 Slices Bacon, crisp fried and crumbled
1 tsp (heaped) Dijon Mustard
Few dashes Worcestershire Sauce
2 Whole English Muffins, split
Combine eggs with all other ingredients. Fold together gently.
Spread on English muffin halves, then grill for 3 to 5 minutes or until hot and bubbly. Serve immediately!
You can make this egg mixture the day before, cover and store in the fridge.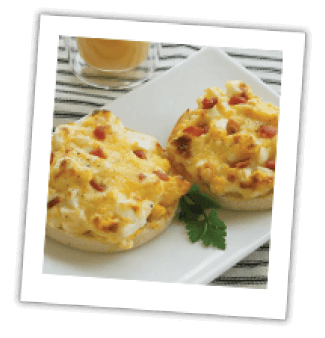 More quick fixes
Keep a stock of hard boiled eggs in the fridge (in their shells). They'll last for up to 5 days. Great in school lunch boxes too.
Mash in some hard boiled eggs with a can of salmon and some cottage cheese for a high calcium sandwich filling or as a topping on crackers.
Use up leftover rice or pasta with a quick stir fry. Chop up some ham and vegetables, toss in a non-stick fry pan with the rice or pasta and pour a beaten egg over. Stir fry till set and season. Add a dash of soy sauce.
Serve up some hearty baked beans on wholemeal toast with a poached egg on top.
Eggs Poached in Spicy Tomato Sauce - heat a 400g can of Mexican Chopped Tomataoes in a pan, add chilli flakes if you like extra spicy. Crack an egg into a cup, make a well in tomatoes and gently drop egg into the middle. Cover and cook approximately 5 minutes, or until egg is cooked to your taste.
Homemade Bacon & Egg Burger - English muffins (try the cheese flavour), lay slice of cheese, a dollop of quick Microwave Scrambled Egg and top with bacon or ham, season to taste.
Light Chicken Caesar Salad
4 hard boiled Morning Harvest Eggs, quartered
4 cooked boneless, skinless Chicken Breasts, sliced
250g Croutons
¼ C Parmesan Cheese, grated or shaved
¼ C Lite Mayonnaise, good quality
2 Tbsp Lemon juice
6-8 Whole Anchovies (optional)
½ tsp dried Mustard
½ tsp Worcester Sauce
2 tsp Garlic, finely chopped
Salt & Pepper to taste
8 C torn Iceberg or Cos Lettuce
In bowl, whisk together mayonnaise, water, lemon juice, Worcestershire sauce, salt, pepper, mustard and garlic.
In large salad bowl add croutons, lettuce, chicken. Add dressing and toss well. Fold in eggs gently.
Garnish with shaved or grated Parmesan cheese and Anchovies.
Eggs should be only just hard boiled.
For tastier salad, try sliced Smoked Chicken.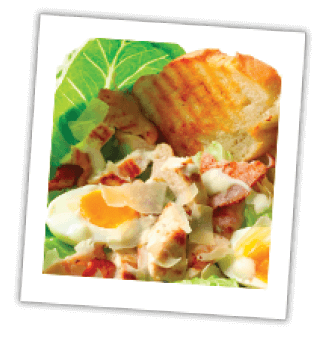 Best ever Bacon and Egg pie
Excluding Preparation (20 mins)
4 sheets of Puff Pastry (thawed)
12 Morning Harvest Eggs
1 C Bacon, chopped
1 – 2 firm but ripe Tomatoes, sliced
2 Spring Onions chopped
½ C Tasty Cheese, grated
4-6 Tbsp chopped fresh Herbs, Parsley and Basil
Salt & freshly ground Pepper
Lightly grease shallow pie tin (30x25cm approx) and line bottom with pastry. Sprinkle grated cheese over base. Crack eggs over cheese, and press each with fork to break yolks.
Scatter bacon, spring onion, tomato slices and herbs evenly over eggs. Season with salt and pepper.
Brush edges of pastry with milk and lay remaining pastry across top, pinch bottom and top edges together to seal pie. Decorate with left over pastry and brush top with beaten egg to glaze.
Refrigerate pie for 20 minutes to allow pastry to 'rest'.
Bake at 200ºC for 30-45 minutes until golden. Serve warm with a green salad. Ideal for picnics and lunchboxes.
1 tsp Dried Mixed Herbs can replace fresh herbs if not available.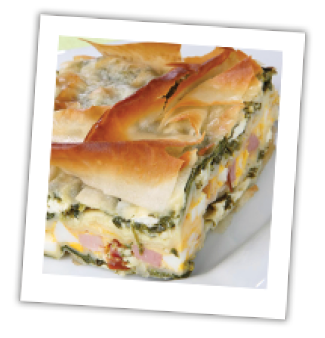 Apparently...
Brown hens lay brown eggs and
white hens lay white eggs.
Smoked Salmon Rosti
Excluding Preparation (20 mins)
½ C lite Sour Cream 1C Cucumber, de-seeded, diced OR 2 Tbsp Capers, rinsed and chopped
2 Tbsp Olive Oil
100g baby Spinach leaves
300g Smoked Salmon (approx 16 slices)
Lemon Wedges to serve
Potato Rosti:
800g (about 4) Desiree Potatoes, peeled
2 Morning Harvest Eggs, lightly beaten
¼ C Self Raising Flour
1 Tbsp Milk
Salt and Pepper to taste.
De-seed and dice cucumber and combine with sour cream
OR Rinse and chop capers and combine with sour cream
Coarsely grate potatoes, rinse under cold water and drain. Press out excess moisture by placing in a clean, dry tea towel. Place in bowl, add eggs, flour, milk, salt and pepper and mix well.
Heat olive oil in a large non stick fry pan, over a medium to high to heat.
Divide mixture into four. Add first two portions to the hot pan and spread each one to approx 8mm thick.
Cook for 3-5 minutes each side, until crisp and golden and cooked through. Remove and drain on paper towel. Cook remaining portions.
Place one rosti on each plate. Top with spinach leaves, smoked salmon and a spoonful of the sour cream mixture. Serve with lemon wedges.
Try Rosti topped with Crispy Bacon, Fresh Tomato Herb Salsa and crumbled Fetta cheese.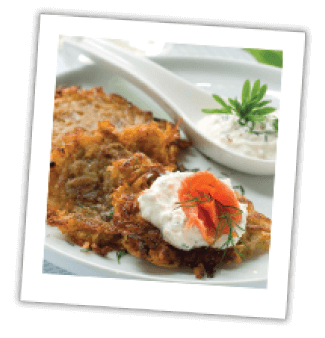 Scrummy Egg Tacos
8 Taco shell
8 Morning Harvest Eggs, hard boiled and roughly chopped
1 C Cream Style Corn
2 tsp Taco Seasoning Mix
1 C Tasty Cheese, grated
Shredded Lettuce
Sour Cream
Taco Sauce
Warm taco shells in oven, according to package directions.
In a large non-stick frypan, combine hard boiled eggs, corn, taco seasoning mix. Stir gently over medium heat until heated (about 3 minutes). Remove from heat.
Fill each taco shell with about ⅓ C of egg mixture. Garnish with lettuce, taco sauce, sour cream and grated cheese.